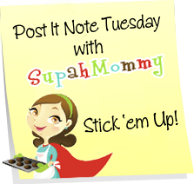 Well, it's time for has seemed to become a biannual homage to one of my faves,
Supah
. It used to be weekly but as with all things, life happened and it seems time is flying past me at Mach Five. New career, going back to college, kids, husband, weather... you know, LIFE. I haven't had the time to get on my blog like I've wanted but I try to trek back here often enough to keep a few followers...
So, without much more hype, here are my random thoughts from this week!
Had a mommy/Middle Man date:
Got to eavesdrop on Prodigal! Hey, I was walking up the stairs and heard voices at midnight. I thought maybe it was "those" voices but it turned out to be:
So don't judge me..
And then I had the pleasure of finding pieces of something all over my living room floor at 0430:
After that, apparently the the Shepherd and the cat have made nice again. It's terrifying actually:
But in the end the snowstorm brought about some good old-fashioned family fun:
And after I launched off the ice ramp in the kiddy saucer, catching about five feet of air and landing several feet away from my snow vehicle? I think this falls under either the, "What the fuck were you thinking?" or, "How much did you fucking drink?" category....
One last thing, for all of my readers who don't wear a size two I found the perfect poster:
I love the man that created this poster.....