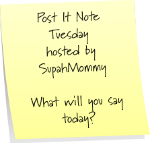 Ah, it's Stick It, Tuesday. I have to get my creative side out now. Not sure I can do that today....But I'll give it the old college try (I don't know what that is, I heard it in an old movie once).
I love my husband, really....

How lucky am I to meet people like this on the street!!

I could have done without starting my day like this......

But, I should have known something bad was going to happen

Then again, if the communists had stocked up!!

But, in the end, I guess it is my fault....Dumbass blonde...