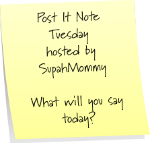 I have totally been turned onto these things over at
Chief's place

.
Now, I don't have her wicked sticky skills but hopefully I'll get there with practice. I mean, everything takes time and practice to perfect, don't you think?
If you'd like to join in the fun, go see
Supahmommy here
to get the button and get in on the fun.