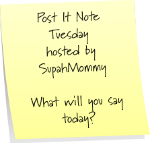 Ahhh, Tuesday! Today you are my second favorite day of the week. Why me, you ask? Because it was a three day weekend and you, my love, are the first day of a short week. THAT means, the weeks is 1/4 done already!
So, it's time to pay homage to
Supahmommy
with my Stick It, Tuesday. What to write, what to write....
Went shopping for a new vehicle this weekend....
We were entertained by a 5'6" 400 lb. (not kidding) salesman.....

(this was an actual conversation we had while waiting for the "deal")

Got very annoyed with the "deal"....

So, we drove home in our fully-loaded, leather interior, DVD w/Surround Sound, power everything 2005 Grand Caravan (did I mention the sunroof?) with our cash still in our hand.

So, maybe we'll keep the soccer mom van, although I wanted something sexy football mommyish....

We discussed our trip on the way home...

Well, that's about it. Little Man had Homecoming this weekend (yes, at six years old). Now that my PC is back up, I'll have to load some pics and do a post about that....

Disclaimer: No obscenely obese people were hurt in the writing of this post. I also have nothing against obscenely obese people. I'm just asking questions that you KNOW have run through your own head. The side effects of this post could include but are not limited to: throwing up in the mouth a little; mental images that won't go away for days; nightmares; constant rubbing of eyes and chanting, "Go away bad dream"....