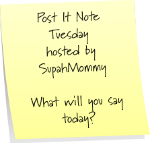 At last, I've have found the time to come back for my favorite day of the week--Stick It, Tuesday. I can't believe it's already been two weeks since my last post. The holidays, school, sports, work....Everything seems to just suck the gotdamned life outta me!
But alas, I am here. I see I've lost a few followers due to being a complete slacker, *sigh. Oh well, maybe they'll come back after a few brilliant posts from me. With The Season upon us, I'm sure I'll have plenty of drunken family tales to tell. Think Christmas Vacation. I believe that story is based on my family. Seriously.
So, let us begin the joviality!
So, those are my quickies for today. Have fun and go visit
Supah

.
. While you're at it, pay attention to my girls
Barefoot Dreamer
,
the Ex Hot Girl
,
Martie
, and
Ciara
because they are all smart, sexy, beautiful women that I love. And if you want to visit the smartest, sexiest men visit
Hot Dads
and read some Southern Sage, Trooper Thorn and Tent Camper. You will never regret visiting....