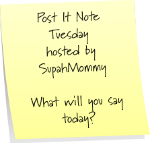 I love Stick It, Tuesdays! Paying tribute to all those near and dear with little love notes--NOT! This week, I'd love to pretend that all the animals in and out of my house could read. If they could, this is what I would say:
And for the biggest animal in my house, you know I love you but......

I hope you smiled at least once during this post. I've been so busy with work, school and sports it seems that I only have time for one or two a week! Please be patient, two of the three are coming to an end soon. I'll be back in all my blonde, fucked up glory. Now go....Go pay attention to
Chief
.
Supah
, and my girls
Martie
and
Ciara
. They are four of my favorites chicks in Blogworld and probably real life too...